Hello all!
It's the first Saturday of the month so time for the People's Choice SAL run by Jo from Serendipitous Stitching. Continued thanks to Jo for hosting this unique SAL which has a different theme each month.
This month's theme is mermaids.
This theme was easy-peasy for me!
Here are the mermaid or mermaid-related charts I have stitched, am stitching or are waiting to be stitched:
No, that's not a photo error; the total amount of mermaid charts I have is zero! It's not intentional, just a theme which has never made it into my stash. But I'm not going to let that little inconvenience stop me from joining in with this SAL!
I'm guessing other participants will show some of the beautiful and numerous Mirabilia, Nora Corbett and Pasione Ricamo mermaid charts available, so when I went internet browsing for things to show I deliberately stayed away from those. Out of the huge variety a google search returned (most of which were Disney's Ariel) here are some to whet your taste buds (or needles).
This chart of Hans Christian Andersen's Little Mermaid statue in Copenhagen is by Eva Rosenstand. Not many 'real' things tend to be stitched, so I thought this would make a change.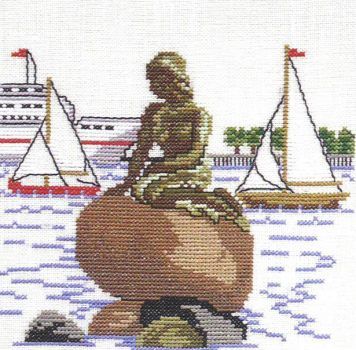 Soda Stitch have charted many fairy tale stories in their unique style (I counted 18) including this one of The Little Mermaid. I doubt I'd ever stitch them (they'd probably make it onto my to stitch list around 2035 at the earliest!) but I do find myself being somewhat drawn to them.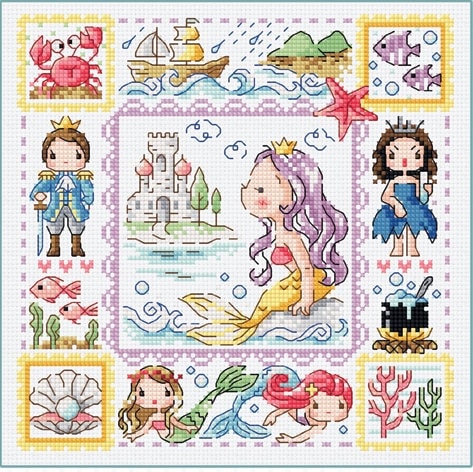 Staying with Hans Christian Andersen, I managed to track down this version of The Little Mermaid I remembered seeing years back. I still very much like it, especially the traditional rather than Disney-fied illustrations. There are six Hans Christian Andersen fairy tales in the set, the other being Thumbelina, The Emperor's New Clothes, The Snow Queen, The Ugly Duckling, and The Princess and the Pea. They've long been discontinued but if I ever came across one I would definitely add it to my stash. I'd have to change the writing though - unless it's just me that finds the font difficult to read?
Finally my travels took me to HAED where this piece, Nouveau Mermaids by Selena Fenech, stood out. At first I thought the mermaids represented the four seasons but they are apparently Air, Earth, Fire and Water. I especially love the colours of Fire's hair.
So there we go, nothing stitched, or even in the pipeline, but plenty of variety to show. I shall now enjoy following the links to see which mermaids other participants have actually stitched!
Next month's theme is finishing; that should be very interesting!
Take care,
Rachel x