Hello all
It's the first Saturday of the month so time for the People's Choice SAL run by Jo from Serendipitous Stitching. Continued thanks to Jo for hosting this unique SAL which has a different theme each month.
This month's theme is flowers.
We all know that roses are the symbol of love but did you know that every flower, and sometimes each colour variation, has a meaning? Although around for thousands of years, The Language of Flowers - or floriography to give it its proper name - took off in its modern form in France in the early 1800s before spreading to England, and later America. Many books have been published on the subject but each flower's meaning often varies depending on country or the source of information used. For the novice floriographer,
thelanguageofflowers.com
provides a succinct A-Z summary (NB there are adverts on the page).
Nowadays, with most flowers available all year round, the language of secretly communicating affection through flowers has all but gone. But who still doesn't love being given a bunch or bouquet of flowers, whatever they are?
Flowers don't tend to appear in many of my projects, but I did find a few to show:
Morning song by Dawna Barton for Dimensions was my second ever cross stitch back in 1994 and is still one of my favourites. It's stitched on 11 count so is huge! And no, that's not how I had it framed - the inside mount has slipped, but since it's not on the wall at the moment I haven't adjusted it.
Rainbow Rose by Celtic Rose Needlecraft is another flower I've stitched, although only the the top 2/3rds of the chart. I loved it when I stitched it but have gone of it now. It's not gone to waste though - it's in my mum's room and she loves it! It's also in a frame I found at a car boot sale which is why there's a pathetically small mount. One day I'll frame it properly.
Lizzie Kate's Flip-It Stamp for November was changed from a turkey to a poppy (because we don't do Thanksgiving in the UK) in honour of Remembrance Day. I found a free poppy chart on the internet and adapted it to fit.
Flower Power from the Lickle Ted range by DMC is a current WIP started back in 2015. I've got most of the teddy still to stitch but at least the flower's done and even backstitched (apart from where the petals meet Lickle Ted).
In my stash are these kits, Magnolia and Clematis, by Riolis. Although not my usual type of project, these two flowers are special to my mum and my intention (yeah right) is to stitch them for her. I started Magnolia a couple of years ago (but not enough to blog about) but not touched it since then. It's another of those long-neglected WIPs I have to bring back out... one day; my mum's not getting any younger!
And then I did my usual thing of going internet trawling, looking for some other flower projects, just in case you haven't been tempted into any stash-enhancing yet! These little beauties all caught my eye:
Cute Cacti by
FuzzyFoxDesigns
on etsy. Each one is available individually, or as the set as shown here, and all have names e.g. the top left is Astrid, the fourth along on the top row Einstein, and the bottom right Cozmo the Magician. I'm not a big fan of cacti but I have to admit they live up to their cuteness!
I have loved these John Clayton flower panels by Heritage Crafts for as long as can remember but have never bought one. The three shown here, Fuchsia, Honeysuckle and Sweet Pea, are my favourites but I can't actually see myself ever stitching them.
Finally, cross-stitch wise,
here's
a gorgeous pink/space petalled flower from LoLaLottaShop on etsy. It's not been framed with a circular mount, that's the charted border. Very clever, very effective and certainly different.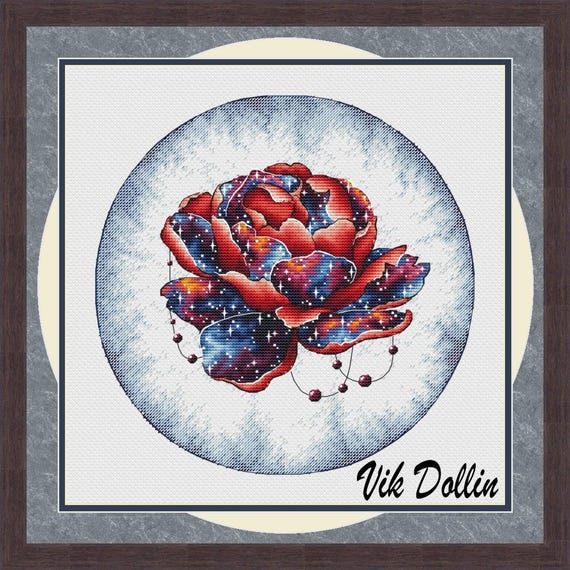 To finish off, here's a tongue-in-cheek something especially for Faith... stash-enabling doesn't have to be all cross-stitch, does it?! ;)

So there you have it; plenty of flowers out of which I hope you like at least one. Next month's theme is mermaids; see you there!


Take care,
Rachel x